Theatre Under The Stars took a good chunk of my week this week… Tuesday was the Tommy Tune Awards, and then on Friday we had the TUTS Gala "Forever Young" Honoring Founder and Artistic Director Frank Young on his 40 years of success! But before we get to that – I actually had to do some work between gala events!
We are deep in preproduction on our new documentary for HoustonPBS called "The Last 24" focusing on the last 24 hours before Dominic Walsh Dance Theatre premiers their newest production – so we worked through the script and planned what we are going to capture on the reality special. The 24 hours we will be focused on will go from Wednesday, May 2nd at to Thursday, May 3rd at and the opening curtain of DWDT's "Made in Italy" at the Hobby Center in Houston. You can follow our progress on my other blog "The Last 24"

My station is asking me to keep an online blog about the process on out Web Site (houstonpbs.org) but I don't think they have activated it yet – but I'll let ya know… So we also went to meet with Dominic at his studio on Thursday to go over some of the logistics – we are trying not to interfere with what they are doing – so it is a challenge…
On Friday, my other show "InnerVIEWS with Ernie Manouse" took my focus during work hours. Currently, nation-wide, season IV is airing (check with your local PBS station to see if we are airing in your area – we are currently on 82 stations across the country), but we are already well into shooting Season V (which will start airing in the fall). So Friday, we taped a new episode with the Queen of Southern Cooking, Paula Deen.
Ms. Deen has just published an auto-biography and was visiting Houston for a speaking engagement and Book signing – so we interviewed her during her stay at the Four Season Hotel – in the main dinning room's kitchen – isn't that just perfect for her! She was a bit late for the interview, which had us all a little stressed since I had an event that night I needed to get too – the Forever Young Celebration – but when she showed up – she just glowed – and she had the bluest eyes! We were about to begin, and then we had a technical problem with our audio batteries – so we had to wait till that was fixed… and then we began… and then Ms Deen started having a coughing fit – so we had to keep stopping… Then she had to place a call to her room to have her husband bring down her cough syrup – Finally things were moving again and we got the interview done.
Ms Deen, even though was in a huge hurry at this point, had agreed to help us out with a new feature we are just starting – a question after the interview that will be shown as a web only feature when you visit our site (www.HoustonPBS.org/InnerVIEWS) and will be included on the DVD's (Yes, DVD's of all our past episodes of "InnerVIEWS…" are becoming available – just contact us at InnerVIEWS@HoustonPBS.org for more information – they are only $19.95 each) – you will be able to get all this information once we get our new InnerVIEWS web site up and running – again, I will let you know when that happens.
Ms Deen was off and running and we followed shortly to get me back to the station and then home for a quick change of clothes and off to the Hobby Center for the TUTS Gala!
WHAT A NIGHT!


TUTS knows how to stage a musical and an awards show, but a Gala Review is always a tricky thing – but this year they pulled it off brilliantly!!!


It started with cocktails on the stage, and then the beautifully dressed crowd was moved to the audience and the show started. Our Chairs welcomed us and then a video of Frank's life was shown – Very Entertaining!!! And then some amazing performers – including Austin Miller (still visiting since the Tommy Tune Awards on Tuesday Night). He is just a wonderful stage performer – so much talent and still so early in his career, yet he has done so much – I am proud to know him.

And then there is that moment you hear of – when a performer takes the stage – and you just know she/he is a star!!! I can't explain what it is that they have, or why they connect the way they do – but when it happens, you just sense it – and we had one of those moments when the first of two high schools took the stage to do a number from "Thoroughly Modern Millie." I don't know her name (but I will find it our) – but she was AMAZING – I can only imagine that this might have been the way the audience felt the first time Liz Minnelli took the stage – something just happens – and it is magic… If you know who she is - please comment below!
But what is a TUTS event with Out Star Power – and they had that too… first up Robert Goulet (who has worked with Frank a number of times and did Camelot tours with TUTS)
And then the evening got the biggest surprise and gift – Debbie Reynolds!
She was so enjoyable to watch – again I go back to what I wrote earlier about "Star Quality" – just as well as you can see it in a fresh new face who comes out of no where to surprise, it can also be sensed when someone takes the stage and is comfortable in knowing that this is where they belong!
You wished she would have just kept going – you wanted to see her whole act – and even if her voice was not pitch perfect (which even she acknowledged from the stage with the line "It might not be good , but it was loud!"), she left you wanting more…
It is great to see a master at their craft allow you to witness what they do so well!
And if you think it was all song and dance – next up was a couple who can get a standing ovation by just entering the room, President George and Mrs. Barbara Bush (41), supporters of Theatre Under The Stars.

They were on hand to congratulate Frank and award him the American Musical Theatre Award for lifetime achievement. It was magical for Frank, who came up to accept.
No one had told him what the evening was going to hold – so he was expecting a roast – LOL – and that was what he prepared for in his speech – LOL… he read a little of it, but then had to discard the remainder of his remarks, since they were now inappropriate (even if still funny).
Next up was dinner and dancing and believe it or not – people stayed and danced. Funny thing, at these events – even if people have paid thousands of dollars for tickets, they are usually searching for an exit by the time dinner is over – not this time! Dinner was delicious (catered by City Kitchens) and music was provided by Yvonne Washington.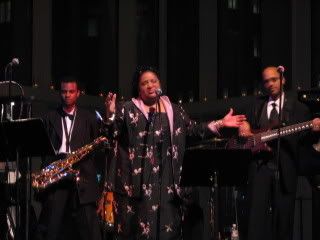 Jackson and I had a fun table, then wandered a bit and chatted with some of our friends that were there – and even got a little time to hang with Austin and his sister.

They had to leave some what early since Austin was going to be in a parade the next morning, and at this point it had been a long day for me too so off we all went…
As I left what rang in my ear was Frank talking to me before dinner… "I don't know what some people think – I'm not retiring, I have a lot of work to still get done! This was not a retirement party!!!" , to which I have to wonder – what on earth do they have planed for when he finally does, how could you out do this event!? It was Magic!