And so it all begins to come to an end... We have just finished our last full day in NYC. Tomorrow we leave at 1:15pm for the airport and then back to Houston... But today was a day that seemed to have it all!
We started by heading over to
Radio City Music Hall
(just down the block from our hotel) - and catch the Radio City Tour.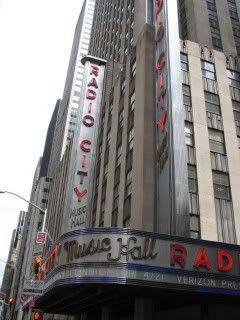 It was fun - but not sure it was worth the $17.00 ticket price - we saw the Lobby, the auditorium, the hydraulics under the stage, Roxy's apartment up above the Hall (that was cool) and met a Rockette...


After that we needed to eat - so we went back to 46th St. to a fine tasting (and nicely priced - $16.95) India Lunch Buffet at
Utsav India Restaurant
Time was passing quickly and there was still so much more to do... First we visited
Trinity Church
on Wall Street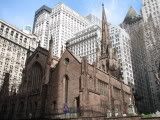 And then it was time to do something I have been meaning to do for the last 6 years, but never did... We visited "Ground Zero"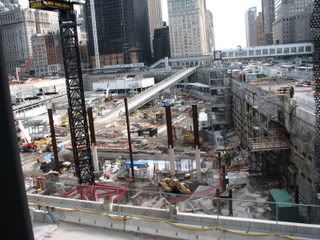 You hear a lot about that place - and it is truly a moving experience - simply the silence, right there in the heart of Lower Manhattan - the people come here to respect those lost and they are quiet and respectful. Even today, all these years later, it is still hard to hold back the tears. One worker pointed out to us the only part of the World Trade Center still standing - "Survivors' Staircase"


These steps used to be know as the Vesey Street Staircase, and aided hundreds of survivors in escaping the burning buildings on September 11th, 2001. Now this staircase is at the center of a controversy all it's own. Some want it removed, others want it broken up and embedded in the new structure, but preservationists would like it protected, moved and then returned when the new WTC complex is completed, as close to the original sight as possible - so its profound meaning can be preserved for future generations.
(Read more about "Survivors' Staircase" here)
Then it was time to head back uptown for a Choral Evensong service at
Saint Thomas Church
on Fifth Ave at 53rd St.


The Service consists of the singing of the Church's resident Men's and Boys Choir. It is a beautiful way to experience a church service.
And finally a quick stop back at our hotel to change and then off to Dinner at one of New York's place to see and be seen -
21 Club
.
What makes this so special - beside enjoying a wonderful meal at a famed restaurant, is it was a meal shared with dear friends. Just as I started this whole adventure to come to NYC to see my friend Nana Mouskouri, we wrapped up the trip by visiting with another dear friend, who I met years ago, thanks to my career in broadcasting.
Back in the early 90's, while doing the radio show "Crosstalk with Ernie Manouse" for WLUW - 88.7FM, I had the opportunity to interview one of the most successful authors of our time,
Barbara Taylor Bradford
. All 22 of her books have been best-sellers (with her first still probably her most notable "A Woman of Substance"). I enjoyed her humor and warmth and we just clicked. More books were published, and so with each new one, we would interview again. A friendship grew, one that continues to this day. In some ways, she is even responsible for my getting into TV - she wrote a letter of reference on my behalf when I was applying to HoustonPBS...
So when she and her husband Bob heard Jackson and I would be visiting the city,they invited us to join them for dinner.
And what a fun and enjoyable dinner it was. Not only can BTB write a moving novel, she can tell a wickedly funny story - and she had us entertained all night with stories of her and Bob's adventures and friends. Barbara is deep in the middle of writing the second book in her new saga of the Ravenscar Dynasty, which has a quickly approaching deadline - but you could never tell she was short on time - she looked wonderful and relaxed and made us feel like we were the only thing in the world that mattered this evening. So after a delicious meal (and a tasty dessert) we all said our goodbyes - took a couple of pics (just for those of you who read this blog) and promised to see each other again soon.
(Sorry about the blurry - kind of looks like a special effect we planned, doesn't it...)
And so another day, our last day in NYC, comes to an end. As I write this - I am all ready packed (I hate waiting for the last minute to do that) and as the time closes in on 3am, I must say good night...
Tomorrow we return to Houston, and we will be home again...
I am hoping that this blog finds you happy and healthy, and I will post again soon... (Hey did you notice, this posting now has hyper links! Enjoy!!!)