Hello again...

OK I promise this will be much shorter then the last blog... and only a little Nana talk ;-)

We made it to NYC!!!!



First up was heading over to Birdland to see Victoria Shaw (
pop/country songwriter responsible for over 65 million CD sales, who wrote one of Garth's biggest hits of all-time, "The River," and also wrote "I Love The Way You Love Me" for John Michael Montgomery and "Nobody Wants To Be Lonely" for Ricky Martin and Christina Aguilera).
She was in concert with
Richie MacDonald (of Lonestar) and Gary Burr.

And that was followed by our main reason for going on Monday night - Jim Caruso's Cast Party!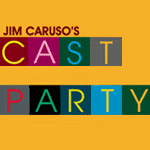 It's an open mic show that brings out some of Broadways best and brightest in a fun filled evening that anyone would enjoy! From an 80 year old tap dancer to a young chorus boy who sang amazingly like Audra McDonald (and yes I have video of both - I'll post later...)
Tuesday, we started off with lunch at "Prime Burger" - food was good, but what really caught my attention was the single person "Booths" - yep - you read that right... Wait, here is a picture...
So retro and fun - I guess Sarah Jessica Parker was filmed there for the Oprah Show...

Then a lot of running around and record shopping (I got two new CDs from a pair of Cabaret classics - Karen Akers' "Like It Was" & the amazing Eartha Kitt's "Live from the Cafe Carlyle") - and then we searched out a Carvel's Ice Cream and enjoyed eating our cones as we listened to the USO mobile Canteen...


And then we visited St. Mary the Virgin (the Church, not the lady...) I'll post some pics from that later too...

Then it was time to change and head to Lincoln Center - we took the Subway - Ooooooooh - LOL - I get so turned around in NYC's subway system - Chicago's makes so much more sense to me!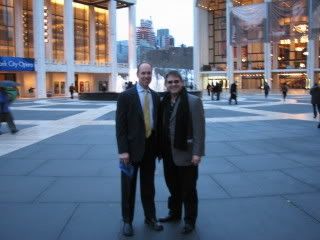 Then... Nana Mouskouri in Concert!!!! She was in great voice and the show was amazing, warm and (OK, I'll stop here - I promised...) ...

Here is the sold out crowd...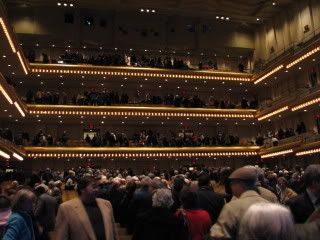 And the Diva getting some love from the crowd...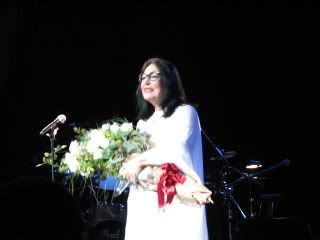 (I know - not supposed to take pics in the hall - but took one quick - didn't even have time to focus...)

And then of course, hanging in the dressing rooms after the show!



Then we walked back through the city - just enjoying the sights and sounds of NYC...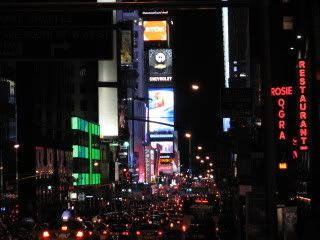 I wonder what adventures await us next...