Well Wednesday is over - and here is a quick update...
The day started out wanting to see a Broadway show... but what to go see??? So off to Time Square and see what's hot!
At TKTS we got a pair of tickets to see "Inherit the Wind" - but we had a couple of hours - and then a star sighting happened!
The Naked Cowboy!!!
Front View
And The Other Side
And then lunch at "Juniors" - it was yummy, but the cheese cake was to die for!
Then show time -
Two stars - one show! Both Dennehy & Plummer were excellent - I hear there have been some bad reviews, but it held my interest and was a joy to simply watch these men work effortlessly...
But after the show - we were hungry for another show - this time something a little more fun and musical... so off again to TKTS and this time we got a pair of Legally Blonde tickets for just $49.50 - SWEET!
And then we were off to see my dear friend Deborah Hope - who used to live in Houston, but now lives in Manhattan and works at the Essex House...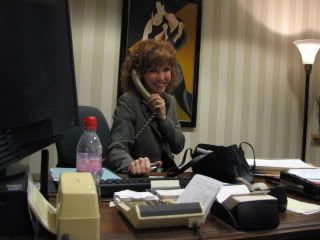 Yep - that is Deborah actually working...
We then got a quick drink with her and did a little catching up but then it was show time - so off we went again to the theatre...
OK - this was a fun and not totally pulled together show with a ton of energizing dance numbers - in total a little clunky, but in its defense, this was a preview performance (show opens April 24th) - but the dance numbers were fun, the set and costumes colorful and the cast wonderful - just the book needs some work and a few numbers don't perfectly work - I will be curious to see what changes are made by Opening Night!
Then a late night dinner at La Marais on 46th St.
And a peaceful walk back to our hotel at Rockefeller Center
Now off to sleep - Tomorrow promises to be a busy day ;-)