So Friday we flew back to Houston (Leaving NYC after a slight delay...) and landed at 7:10pm - which was cutting it close for us - since we needed to be at the theatre by 8pm. My brother met us - drove us back to my place. We simply threw our luggage into my car and drove right off - and we got to the theatre just in time at 8pm. So why all this rushing?
A local theatre group (
Unhinged Production
) was doing
Terrence McNally
's Corpus Christi - and it was closing this weekend. Through MySpace I had been invited to come see the show and they really hoped I would see this production. So I figured if all went as planned we could make it - and I am happy it worked!
It started a little rough - it's not the easiest play, and the opening scene has the actors "playing" themselves - in monologues to the audience. But once the characters were set and the story go going (a modern retelling of the story of Jesus - with a healthy does of controversy mixed in) I was pulled in.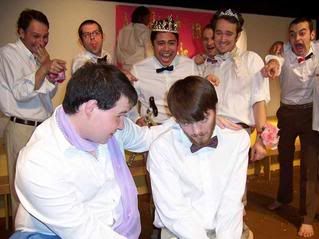 It was good to see, since I have just interviewed McNally for next season on "
InnerVIEWS with Ernie Manouse
" (it will air fall 2007) - and we did talk about this show and the death threats and protests this show attracted.
We were exhausted by the time it was over so I headed home and unpacked and cuddled with the cat - Amber missed me ;-)
But rest was not long lived - the next morning I had to be up and off to the
Bellaire/Southwest Houston Rotary
2nd annual Fish Fry - which I was MCing - it was a blast... The crowd was on the small side, but everyone seemed to have a great time.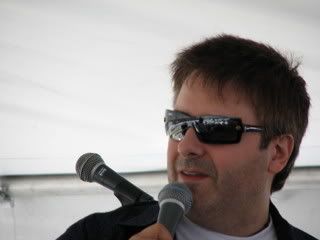 There were The Fab Five for your musical enjoyment...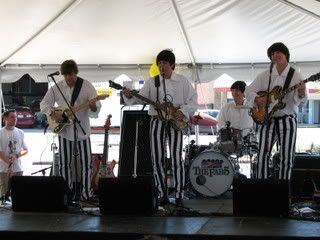 Dancing with the Stars competition...
And my favorite - the Pie eating contest...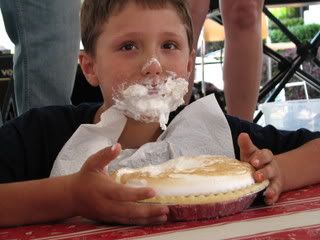 Plus food, auction items, and even a clown!
Home again for a brief rest and clean up and then off to our friend Barry's Birthday at
Maria Selma
.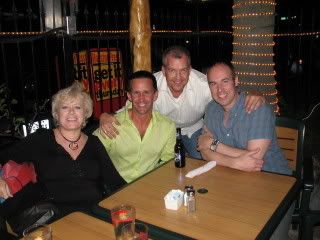 I have decided I am not a big fan of this restaurant - I was not really impressed with the meal, nor were those siting around me - but the thing we all had in common was that we each had a pork dish - those who didn't seemed to enjoy their food more - so I guess you know what not to order should you go...
After the party, we needed to stop at Houston's famed candy stores "The Chocolate Bar" & "Candylicious"
The Chocolate Bar was still open and dessert there is always wonderful, but the ice cream is to die for - so rich and filling (a lot less air in their Ice Cream then most commercial brands - but that is why it is so filling - it is very dense).
And that ended our day back in Houston...
Sunday was my day of rest - I had a few events I was supposed to go to - but I just needed a little down time, cause next week is gunna be busy... Come on back as see what happens next...